Einstein Analytics Summer 18 Release
The summer '18 Einstein Analytics release delivers more functionalities on the EA Platform. I would highly recommend to check out the release notes for greater depth.  In this article, I would try to highlight some of the key updates and upgrades on the platform from this release.
1-Einstein Analytics Pre-built Permission Sets: In case of using EA Platform licenses. Then two permission sets are included. Earlier we had to select permission set licenses, create permission sets, and assign them to users to set up Analytics in the Org. No more! Now, just we can use the prebuilt permission sets. But keep that in mind to manage Sales & Analytics Apps still we have to maintain the separate permission sets.

Einstein Analytics Platform Admin includes all the user permissions required to administer Analytics, including the permissions to create and manage templates and apps.
Einstein Analytics Platform User includes permissions to use platform and app features and functionality. (Generally Available)
2-Notification to Dashboard View: It's very easy to navigate from set notification on the dashboard to the dashboard itself. Now we can see the complete definition of that notification including the filters and set selections with that notification.

3-Improvements to Conversational Queries: Now we can simply explore the possible combinations of KPIs on the dataset. As the machine learning & language processing is more getting embedded on the EA platform. Guided conversations are indeed helpful to explore the data faster. Also reducing the number of click points.
Now with new improvements in the conversational vocabulary, we can use new filter and function words like "without," "filter out," "excludes," and "percentage change." To start a conversation, click Icon for conversational exploration. Click the text box to see suggestions, or just start typing your own query.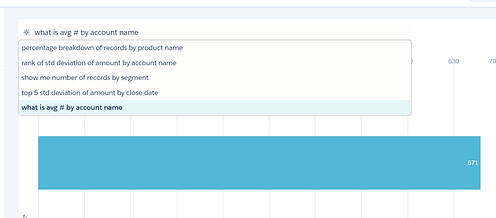 To enable this feature on the Analytics Settings page in Setup, select Enable Conversational Exploration (Beta).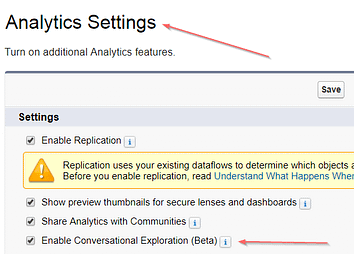 4- Charts Segmentations: This is one of the very good extensions in terms of understanding the chart types and library available on the platform. Now it's very well structured based upon the 8 main categories and types.
5-Compare table Column Aliases: If you know the pain of remembering the projections names in the complex SAQL compare tables. This is the very helpful feature in order to simplify your SAQL in terms of bindings or debugging.
6- Automatically Highlight Data with Conditional Formatting: This is my fav feature from this release. Now we can set simple rules to automatically highlight charts, tables, and number widgets in the dashboard. Therefore I have dedicated the complete feature & functionality in my last blog.
7-XMDs Colors of Dataset Dimensions: Now it's very convenient to change the dimension colors or rename or labeling on the user interface level. In the below snapshot I am trying to change the values of the 'Account Status' field on the opportunities dataset.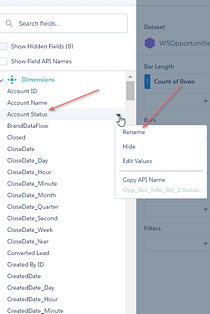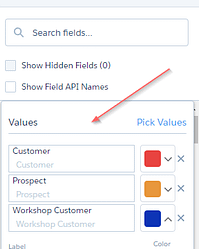 8- Setting Default Dataset Fields for Tables: This is one of the very good features in terms of administration and exploring the tables by avoiding unnecessary values popping up. From this release, we can set the default values for the dataset. In the below example I am setting some default fields for the ACCOUNT dataset.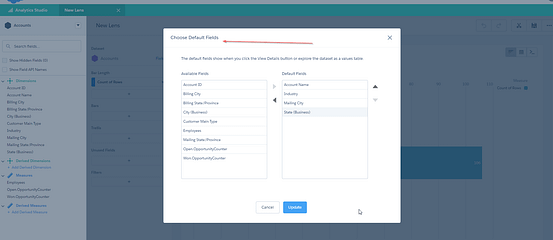 Once the default fields are set then it will always be the default fields when I open the values table or pivot table in EA.  Now you can hide the columns what is not relevant to the business and set it to default for others to use.
9-Reverse Chart Legend: This is another very useful feature. Back then if you have some use cases where you want to enforce some kind of aphetically sequencing top to down or bottom-up. There were lots of heavy lifting on the SAQL or data flow. In this release, it's on the chart itself where you can simply reverse the order of the legend on the UI.
Before Sorting: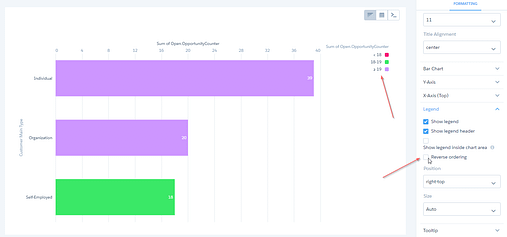 After Sorting: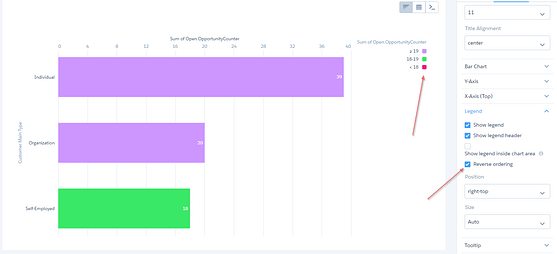 10-Dataflow Usage Indicator: Dataflow limits have been increased from 30 to 40 in 24 hour period. From this release, we can also see those limits on the UI itself and plan our scheduling accordingly.

11– Analytics Adoption Monitoring: From this release if you want to get meaningful insights into usage metrics. There is a utility from Salesforce in the app exchange marketplace to give you that information. Now through this package, we can visualize dataset linkage in Einstein Analytics assets. Package link:  https://appexchange.salesforce.com/listingDetail?listingId=a0N3A00000EJxtBUAT
12-Einstein Analytics New Connectors & Limits:  From this release, there is an addition to the EA Connectors. Now we can also connect SAP Hana & Microsoft Azure SQL Data Warehouse. Now we can connect or replicate 100 objects in Einstein Analytics. It has been increased from 50 objects.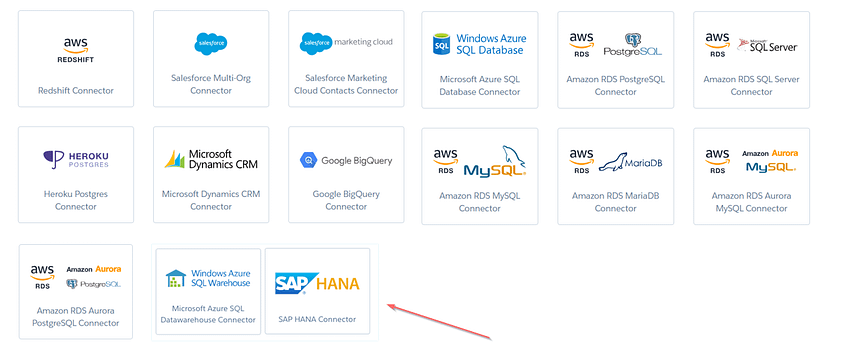 13– Replication Scheduling by Connection: This is another great feature from this release. Imagine if you have the multiple data sources outside salesforce in your EA instance. From now on you can schedule your external database separately. Now we can plan our EA scheduling strategy more precisely and optimize it based on the job's runtime, data volume or sources.
14-External Data Uploads: Now we can upload more data into Einstein Analytics. Earlier we can upload up to 50 external data files as a whole. But now its 50 per DATASET.
15-Append Transformation (Disjoint Schema): From this release, we can also append different schemas in our data flow.  
16-New Analytics Templates: From this release, there are new templates available to create prebuilt solutions based on the Analytics platform. These new Analytics Templates let us do that with ready-made datasets and dashboards that we can easily customize our own requirements. Each template includes a selection of datasets and dashboards to meet the immediate analytics needs. Nonprofits, for example, can get started fast with the Fundraising Analytics pack, with dashboards focused on helping you stay on top of donors and donations. Or, if businesses want insight into their configure-price-quote (CPQ) processes, they can use the Quoting Analytics template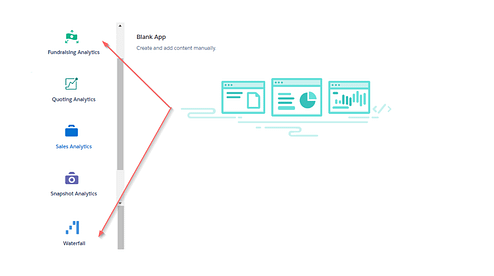 17-Preset Date Filters: Not only with Absolute & relative dates filters. Now we can use preset dates in both date widgets and global filters. With presets, we no longer have to define static steps to create filters on Current Year and Last Month—they're available, by default. For a date widget, we can also specify whether it shows absolute, relative, or preset dates.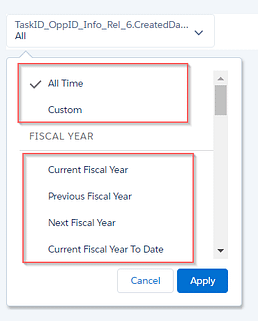 18-Zoom In on Maps: From this release, we can set the zoom ina location on EA Maps. In case of any focus on any regions boundaries on maps then we can set the zoom in or out level for the graph. (Snapshot: Germany Map)
Cheers!
Varun